It seemed I woke every hour on the hour last night anticipating the Halifax Entrepeneur Expo today at the World Trade Center in Halifax.
With main stage speakers lined up like Gair Maxwell owner of The Seamless Brand and author of "Nuts, Bolts, and a Few Loose Screws" (I obtained an autographed copy!) Robert Steele President and CEO of Capital Corporation in Newfoundland and Owner of The Steele Auto Group and keynote speaker Richard St. John. A self made millionaire from Halifax and author of "The 8 Traits Successful People Have in Common". It promised to be an exciting day.
Gair Maxwell was the perfect choice to kick things off with his energizing and unconventional insight and approach to Brands. Maybe it was because it was first thing in the morning, and I was fresh and eager, but his speach impacted the most and his personal words to me will change the focus and way I conduct my future business.
Gair said this: A brand is not a logo, nor a tagline nor an advertising strategy. A brand is a story embedded in the mind of the market. It is intangible. To illlustrate his point he showed the photo of the cool Mac guy and the geek pc guy. The story? Buy a Mac and you will be cool.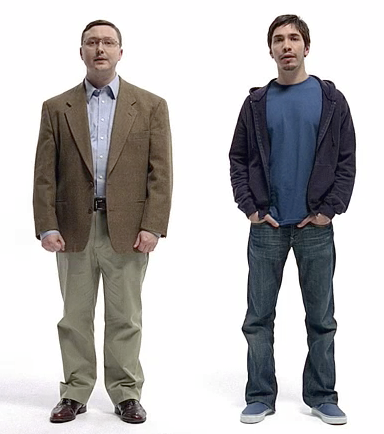 Branding is the tangible process of creating signals that trigger feelings. Great brands trigger an emotional response.
He explained that you will get lost in the sea of service providers if you fail to offer a product or service that is remarkable, worth talking about and worth sharing. His analogy: in field after field of brown cows it would take a purple cow to be noticed. He called it Purple Cow status. Being remarkable. Different. Maybe, a little unconventional.
He said that boring, flat and dull was risky business. He encouraged us to build trust, a raport, a buddy-buddy relationship with our clients. He discussed ad campaigns that satisfied each of the senses: sight, touch, smell, sound and taste.
He said an ad campaign was successful if you either loved it or hated it. That indifference was not a good thing and there was no middle ground. He encouraged us to be concentrated and grounded on principles that will always exist.
And finally almost comfortingly, he said the 5 year business plan is a thing of the past. As long as you can see 200m in front of you, you are okay. I can see that far!
When he finished I knew. I wanted to be a purple cow!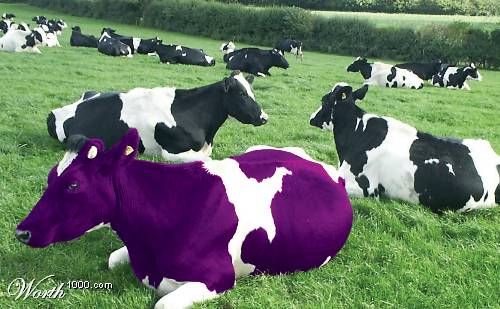 After the session he made his way to the Tradeshow where I had an opportunity to introduce myself personally. "Hi. My name is Nancy Bain and I want to be a purple cow". He smiled, I don't think that was the first time he heard that. "What do you do?" he said. "I offer marketing solutions to Nova Scotia Realtors", I said. His reply, I will never forget. Ever. "I'm worried for you." "You will never be a purple cow if you only market to Realtors".
I had the most profound realisation in the moment. He was right. I had been limiting myself. There is an entire commercial audience, endless possibilities of future virtual tour, text message marketing, and web clients. I was thinking too small! In a few short words, with incredible insight he had defined my largest stumbling block. MYSELF!
If you want to be a purple cow too I recommend picking up his book, "Nuts, Bolts, and a Few Loose Screws" or visit his blog http://www.blogger.com/profile/17388875790959902168
It was Seth Godin who wrote the book Purple Cow. I bet it's worth a read too.
Nancy Bain
Supernova Media, Nova Scotia Virtual Tour Provider
902 766 8687